"44 years ago, I was born into a Christian family in southeastern Nigeria," Ekpo says. Ekpo reads and understands Dutch well, but he prefers to speak in English. He is a lively African with a cheerful disposition. "The Pentecostal church we were members of, was founded by my grandfather. My father was a pastor there."
How did you end up in the Netherlands from Nigeria?
"In Nigeria, I was confronted with matters I wanted to know more about. I saw how many Nigerian churches struggled with moral issues – like matrimonial morality and the way men and women interacted. There were also tensions and arguments between people. You could say there was a gap between preaching and practice. This confused me, and that is why I decided to study theology. I graduated with a Batchelor's degree from the West Africa Theological Seminary. But I wanted to continue my studies abroad. A friend in England told me about an opportunity to study for a Master's degree at Radboud University on a scholarship. I applied and was accepted. That was how I ended up in the Netherlands in 2010."
At that – traditionally Roman Catholic – university, the Bible was approached in a very different manner than the Pentecostal congregation you grew up in.
"You can say that again," Ekpo laughs. "My beliefs were shaken! But I learnt a lot. There was a lot of emphasis on critical thinking and analyzing. I specialized in systematic theology and the philosophy of religion. I discovered how important scientific studying of the Bible is. Scientific Bible study is essential in that it reveals persistent prejudices and misconceptions that blind Christianity to abuses. We have to look for the truth honestly, fearlessly and with open eyes. I do have to say that the scientific approach is only one of the possible ways of interacting with the classical writings of our religion."
Ekpo came into contact with the Amsterdam-based migrant pastor Samuel Lee, Theologian Laureate from 2019 until 2020. Lee suggested continuing his studies at the Vrije Universiteit. There, he followed a program for migrant pastors, to learn how to be bridge builders between their congregants and Dutch society.
In the meantime, you also worked as a nurse in a hospital.
"Yes, that was in England, where I lived and worked for nine months after finishing in Nijmegen. I thought pastoral care and a healthy lifestyle would be a good combination to learn what 'wellbeing' actually entails. People need both spiritual and physical care."
After that, you became the pastor of a migrant church in Zoetermeer, which has members from a whole range of countries. You say, "The universal fellowship of Christians is my firm ecumenical conviction." What do you mean by that?
"I believe it is time for Christians of a whole range of denominations to work together for the communal wellbeing of the people. The coronavirus caused the loss of all sorts of things people had taken for granted. We are longing for connection, but we are confronted with significant social restrictions and a lockdown. The world needs healing. Like Solomon (2 Chronicles 6), together, let us humble ourselves and pray to God. And as 2 Chronicles 7:14 says, he will hear our prayer and heal our land."
Until the beginning of this year, you worked for the project "Hub: Faith in The Hague." What did that entail?
"In that try-out, migrant churches were working together with health care, among others with the Municipal Health Service (GGD). A foundation named Mara gave us migrant pastors a voice, so we could build bridges between our congregations and health care. That way, we could do something about problems caused by a lack of integration or access to information surrounding HIV/AIDS. The project led to a greater degree of understanding between the government and churches. A practical outcome of this is the increase in financial support from the municipality of The Hague and from churches for diaconal assistance."
"Politics is my hobby," you say. How do you combine this with your work?
"I am motivated by Proverbs 29:2, "When the righteous thrive, the people rejoice; when the wicked rule, the people groan." Church and state can be separated, but not divided. As foundation Mara, we encourage members of migrant churches to vote and we give introductions into the political landscape of the Netherlands."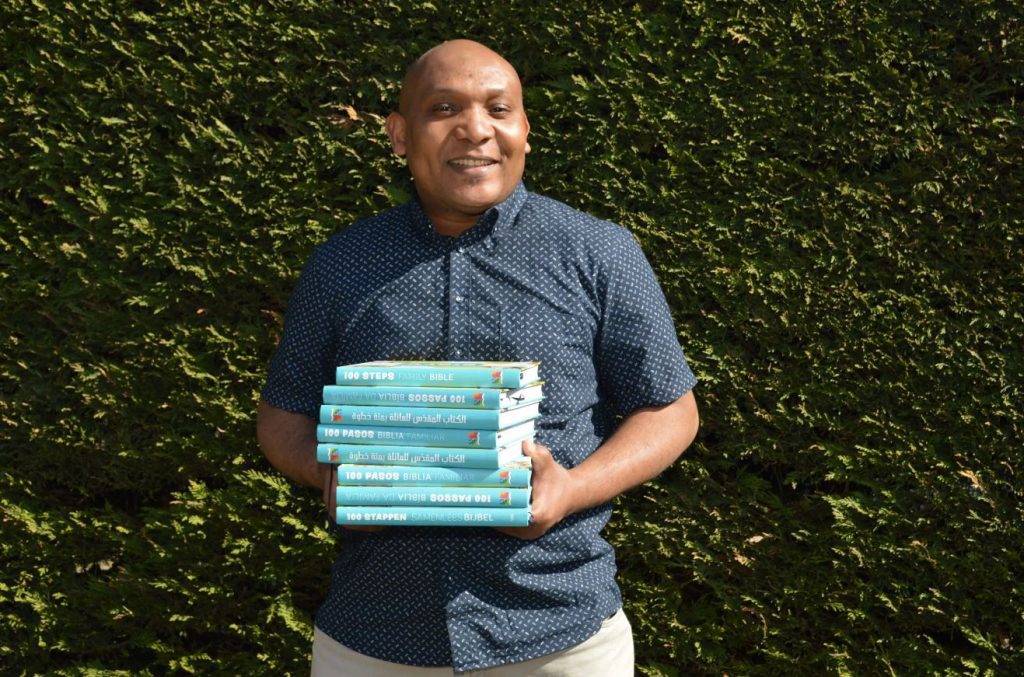 What will you do as a liaison officer at BSNF?
"Through my studies, life experience and work, I know how migrant Christians see the world and Dutch society. I have close connections to migrant and international churches.
I hope the BSNF becomes a trusted name in the circle of those approximately 1,000 to 2,000 churches. The BSNF can be very useful to them. Many migrant and international churches are closely connected to 'their' denomination in the country their members are from. And in that country, too, there is a Bible Society the BSNF is connected to. Through that connection, these churches can obtain Bibles and Bible materials in all key world languages.
In addition, different BSNF publications have now been translated and distributed around the world. These are also very useful for migrant churches. But those churches don't know that yet!" (see frame).
Bibles, Children's Bibles and Children's Materials for Migrant and International Churches
The Bible in simple Dutch: the BGT. And in the 1951 translation. A bilingual Luke's Gospel in Arabic and Dutch. The 100 Steps Family Bible has been translated into among others English, Spanish, Arabic, Portuguese, Papiamento and Romanian. A Chinese version will soon be available. The Prentenbijbel illustrated by Marijke ten Cate has appeared in twelve different languages. Anyone interested in the international editions of the Family Bible and the Beginning Reader's Bible can contact Samuel Ekpo (see below this interview). Of the BSNF Sunday School method Bible Basics, 90 Bible stories have been translated into English.
What can the "old" and "new" Dutch learn from each other?
"Showing respect and empathy towards each other. On both sides, building bridges towards each other. The BSNF focuses on Bible distribution, but for migrant communities, that will be more effective if it is combined with practical aid, possibly food assistance. The Dutch are very direct in their communication, Nigerians talk about other things first. That way, they figure out whether the other can be trusted and build a foundation. And the same is true of most people around the world. When we know and accept such things from each other, we can help each other a great deal."
Contact
Phone number
+31(0)6-82397302
Was dit interessant of nuttig? Deel dit bericht met je netwerk!