An interview with Alexander Schweitzer, head of the Bible Translation Roadmap
First of all a personal question: are you maybe a relative of the famous Albert?
Indeed there is a distant link to Albert Schweitzer. Much closer, though, is my link with him regarding common interest and activities – without the slightest attempt to compare myself to Albert Schweitzer! I did spend much time with church organs and with Bach, I did study philosophy and theology, I developed interest in the "Leben-Jesu-Forschung" and in the "dignity of life" thought. My study of theology, my pastoral experience and above all my interest and involvement in ecumenism have brought me to work in the biblical field. Before I joined UBS in 2011, I served as General Secretary of the Catholic Biblical Federation, the main scope of which is to help the faithful to access Bibles in their heart languages and to engage with the biblical message. Very similar to the UBS mission.
What is the Bible Translation Roadmap? And what is the motivation behind it?
The Bible Translation Roadmap (BTR) is an ambitious 20-year strategy defined in 2018 to finish 1,200 Scripture translations, aiming to reach over 600 million people with God's Word by 2038. This should to be done through first translations of the Bible, the New Testament, and Scripture portions, or through revised translations. Back in 2017 Bible Societies asked themselves how to put more focus on the core task of providing Bible translations. After discussing several scenarios, they agreed upon the "Bible Translation Roadmap".
What is the difference between the 'normal' Scripture translation work – done since some two centuries by UBS and its partners – and the BTR?
In terms of Bible translation as the core competence of Bible Societies and in terms of our Bible translation ethos and principles, there is no difference. The key criterion to decide which kind of translation to do remains the local need as expressed by the local Christian communities rather than donors' agendas. Normally – but not exclusively – we aim at translating the Full Bible and UBS works interconfessionally. UBS has provided over 70% of all Full Bible translations worldwide. But, Bible translation is not a goal in itself and does not want to produce books sitting on shelves; it is connected with other activities which are intended to lead towards Bible engagement. Nonetheless, Bible translation needs to remain the key task of UBS and requires special effort, focus and sustainable resourcing. Here I see the specific contribution of BTR. It reminds us also to the fact that providing first translations remains one of the top priorities in our globalized world marked by migration and multi-lingualism.
Now the first quarter of the 20 years is finished. What about the progress of the BTR? Will there, by then, 300 Scripture translations be finished, as a 'fair' number, seen the total of 1,200 translations aimed at in 2038?
No. But that was not the plan. A lot of additional training on several levels was factored into the Bible Translation Roadmap plan so that the development in numbers of Bible translations completed would not be linear from the start but better expressed by a parabole. In addition, less funding available than initially expected and COVID have slowed down the development. By the end of 2023, I expect to report about 200 Bible translations finished and over 300 in progress.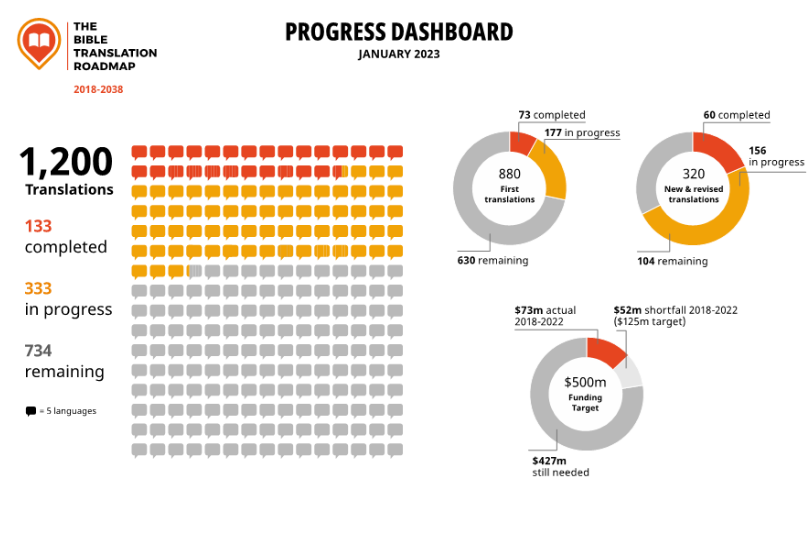 Which of the results of the BTR thus far are you very grateful for?
We have built regional infrastructure (in Asia, Africa and Latin America) to support the BTR, including regional Bible Society stakeholder groups and working groups dealing with questions like prioritizing projects, exchange of (human) resources, partnerships, etc. This is a real step forward in terms of focusing our attention on Bible translation. And BTR urges us to very intentionally look at the relationship between funders and implementors and the question of diversified income streams. This would not have happened to this extent without BTR.
There is much turmoil worldwide: Covid, war in Europe, rising prices, inflation, an unfolding climate crisis …. How does this interfere with the BTR?
As mentioned above, some of these factors have slowed down the resourcing of the ambitious strategy. At the same time these situations underline the importance of the mission to provide access to the Christian worldview and biblical values – which BTR supports.
What keeps you motivated to work on the BTR?
The focus on the UBS core task of Bible translation helps sharpen the identity of the UBS fellowship. But there is more. In terms of reaching hearts, God's Word should be made available in a shape and form which bridges the gap between the original (cultural, social, linguistic) setting of the biblical texts and today's cultures, societies, languages. First translations do this: nothing speaks more to the heart than the "heart language". Revisions of existing translations do that, too. Bible translation therefore is a key element for any process of transformation or Bible engagement. Being able to contribute to this task keeps me motivated!
How does the Bible inspire you or help you to live your life – being 'a modern man in a modern world', in a society where the Bible is criticized and by any people seen as outdated?
The Bible proposes perspectives on basic questions, like those formulated by Immanuel Kant: "Who am I? What can I know? What should I do? What may I hope?" Or questions like: How can we deal with failure and guilt? What about the good and the evil in the world? What about justice? Where or who is God in the darkest moments? What is my value? What is worth to live for? Where is my foundation?
If we read the Bible as "Sacred Scripture" we are looking for answers to such questions which are absolutely "modern" questions for "modern" people. And the New Testament offers coordinates, the most important of which are about loving God and loving the neighbor, inseparably connected. The Bible also reminds us of the journey of the people of Israel with their God, finding out more and more who this God is – which is an encouragement for us individually to look at our own life as a journey. This is my personal approach to and experience with the Bible.
What is your most favored Bible text or Bible story?
Many of the essential New Testament texts which remind us of our basic coordinates, our Christian compass, are of special importance to me. At the risk of doing injustice to many other biblical texts, let me say that I have a very close connection to the Psalms, this rich repertoire covering all life situations. One of the Psalms especially dear to me is Psalm 139, reminding me that wherever we are, wherever we go, He is there.
Interview and text: Peter Siebe, Bible Society for the Netherlands and Flanders
*This interview was first published in November, 2022 and updated in March 2023.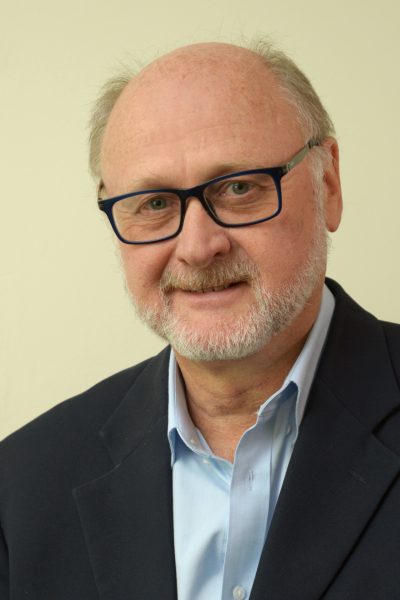 UBS World Assembly 2023
The Bible Society for the Netherlands and Flanders (BSNF) is one of the founders of the UBS and it is still active in this coalition. In 2023, BSNF is honoured to organize the World Assembly, a five-day conference for all presidents and chairpeople of Bible Societies, which is focused on the UBS' strategic direction. This conference takes place every five to eight years.
New UBS President
As of November 1st, UBS has a new president: Dirk Gevers. His background is the the Presbyterian Church and he was president of the Bible Society of South Africa for the past years.
Was dit interessant of nuttig? Deel dit bericht met je netwerk!